ABOUT
Based in Savannah, Georgia and serving surrounding areas, Coastal Custom Mortgage is a mortgage brokerage company that provides homebuyers and homeowners alike with the tools to plan for and achieve financial stability when it comes to real estate endeavors. No matter the client's starting point, Coastal Custom Mortgage is dedicated to building relationships with each of our clients while working toward long-term financial goals. Being a local mortgage brokerage business, Coastal Custom Mortgage has the ability to work closely with clients and guide them through every step of the process to find the best wholesale lenders and products that meet their individual needs.
Coastal Custom Mortgage is staffed with experienced mortgage loan experts that are dedicated to working with families and individuals to set them up with customized lending programs. By offering Savannah and surrounding areas the most competitive rates for customized mortgage programs spanning conventional, FHA, VA, USDA, jumbo, and condominium, Coastal Custom Mortgage transforms eager homebuyers into successful homeowners. If you are interested in starting your home buying process with Coastal Custom Mortgage, feel free to contact us today.
Mortgage Broker
Padraic Robertson
NMLSR #904786
Georgia Residential Mortgage License #53094
Padraic was born and raised in Savannah, Georgia before moving to Athens to attend the University of Georgia. After earning his Bachelor of Arts in Economics in 2005, Padraic moved back to Savannah to begin his career. Padraic held various positions in banking where he gained experience in consumer and commercial lending, investment services, and retail management. It was in mortgage lending, however that Padraic found his true passion.
With a commitment to working closely with each client that comes through the door, Padraic has become a reputable mortgage lender in Savannah. Padraic uses his banking and real estate background to determine the individual needs of each of his clients and decide which lenders and programs matches the clients' background and lifestyle. Through conventional mortgages, VA loans, FHA loans, USDA loans, and more, Padraic provides home buyers with the tools to purchase their dream home.
Padraic is an active member of the National Association of Mortgage Brokers, Savannah Mortgage Bankers Association, and the St. Patrick's Day Parade Committee. In his spare time, Padraic enjoys spending time with his wife, two children, and dog as well as getting outdoors to play golf and other recreation activities.
Loan Officer
Stephanie Willingham
NMLSR #1551540
Georgia Residential Mortgage License #60297
Born in Panama City and raised in the United States by a bilingual family, Stephanie is fluent in both English and Spanish. As a child of immigrants, Stephanie understands first-hand the security and stability that homeownership can provide a family, which led her to a career as a mortgage loan officer.
Stephanie specializes in the knowledge of Georgia first-time homebuyer programs and can customize conventional fixed-rate mortgages, VA home loans, FHA home loans, and USDA home loans for her local homebuyers. To ensure customer satisfaction, she monitors financial trends and loan products so that she can select the best possible solution to make it affordable for each of her borrowers to become homeowners.
Stephanie is a member of various organizations, including Mortgage Bankers of Savannah, National Association of Mortgage Brokers, Young Council of Realtors, Hispanic Chamber of Commerce, and Hispanic Metropolitan Chamber. Outside of work, Stephanie spends her time with her son, family, and friends.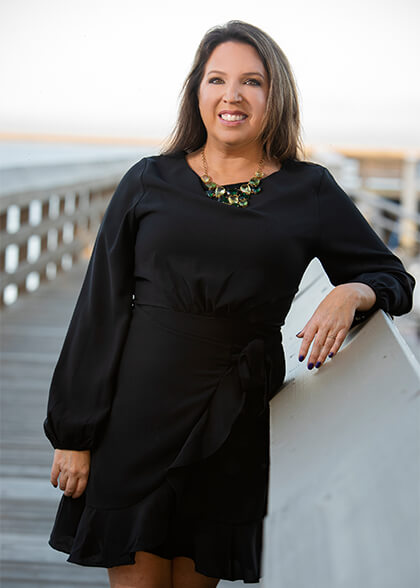 Senior Loan Officer
Sarah Arcanti
NMLSR #1873737
Georgia Residential Mortgage License #67583
A native of Boston, MA Sarah graduated from Providence College in 2001 with a degree in English.  Although her first love was writing and communication, her career path ended up leading to investment services, where she earned her Series 6 and 63 licenses.  From there she made the move to retail banking, and then finally finding her permanent home in mortgage lending in 2012.  Sarah has extensive knowledge of mortgage underwriting guidelines, and up until making the move into loan originating, has been managing a pipeline of over 150 million in production volume.  Sarah is thrilled to join the team at Coastal Custom Mortgage as a Senior Loan Officer! She truly believes in the message of the broker platform: clients first.
Sarah moved to Savannah in 2006 and fell in love with Savannah's history, culture, and coastal beauty.  She lives at The Landings on Skidaway Island.  She enjoys walking, running, boating, and the beach- she loves to be outside in the beautiful low country!  Sarah is also a second generation Italian who loves to cook and spend time with her 2 dogs, Titus and Eddie, and cat Penny.